BUDGET SPEECH DELIVERED BY THE CHAIRPERSON OF MANAGEMENT COMMITTEE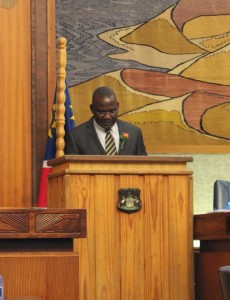 BUDGET SPEECH DELIVERED BY THE CHAIRPERSON OF
MANAGEMENT COMMITTEE, COUNCILLOR IMMANUEL WILFRED
Thursday, 13 June 2013, Council Chambers, Civic Centre
Your Worship the Mayor of Walvis Bay, Councillor Uilika Nambahu,
Fellow Councillors,
The Chief Executive Officer, Mr. Muronga Haingura,
Management and all staff members of Council,
Distinguished invited guests,
Ladies and gentlemen,
Members of the Media.
I am greatly honoured to present the 2013/ 2014 financial year budget as required and provided for under Section 83 of the Local Authorities Act of 1992. As Chairperson of the Management Committee, I am empowered to table the budget to Council in terms of this provision of the Act.
You would all agree with me that local authorities in general are faced with a number of challenges which sometimes hamper service delivery in one way or another.
During the 2012/2013 financial year Council and Management spent some time on strategic planning to determine the way forward and focus on common goals. This effort is almost completed and the official launch will be communicated in due course. In line with this plan and Government initiatives, one of the main focus points will be to develop Walvis Bay to be the industrial Hub of Namibia. This is therefore also the basis upon which the Capital Budget has been compiled.
Other focus areas of both the Capital and Operating Budgets remain as follows:
(1)    Service delivery
As a public entity, our top focus is on service delivery. Our aim will be to deliver effective and efficient services on a continuous basis to all our customers. I wish to extend a word of appreciation to those community members who approach council on specific areas where improvements are needed. Equally, we appreciate the positive feedback on satisfactory service delivery that we receive from some community members.
(2)    Investment promotion and employment creation
We shall commit ourselves towards maintaining a conducive investment environment for local and foreign investors especially in light of becoming the industrial Hub of Namibia.
(3)    Economic empowerment
I would like to call upon all stakeholders and role-players involved in local economic investment projects to give due regard to our local people when it comes to employment opportunities. From the council's side, we shall continue to encourage local entrepreneurs to participate in our tendering process and thereby creating job opportunities for the local communities.
(4)    Social responsibility
Council took the lead to embark upon a serious campaign to make serviced land available for housing development and Industrial projects in Walvis Bay for all income groups. Council therefore invited tenders to fast track the Town Planning processes and the development of serviced land. In this regard, the Local Tender Board will soon be presented with a tender on the development of serviced land for evaluation and eventual approval.
Operational Budget challenges
On the operational side, it was extremely difficult to balance the Budget. For the past two to three years, a moratorium was placed on creating and filling of vacant positions. However, the rapid expansion of the Town through new extensions and new buildings caught up on us and forced us to expand our workforce significantly.
Tariff increases from our bulk suppliers such as NamWater and Erongo RED have been indicated to be way above the inflation rate. Although we tried our utmost best to keep tariffs as low as possible, we are forced to announce higher than normal tariff increases for the current financial year.
Budget in Figures
Against this background of the challenges facing us and our Strategic Plan aimed at addressing these challenges, I would now move on to present some highlights of our capital and operating budgets for the 2013/2014 financial year.
The total capital budget for the new fiscal year amounts to 211,2 MILLION DOLLARS of which an amount of  120 MILLION DOLLARS  has been earmarked for land development projects. Expenditure on land development projects will result in the creation of about 1,500 Erven in total by end of September 2014. These developments will mainly be undertaken by council through public-private-partnership initiatives whereby private developers will be involved.
Major projects that have been provided for on the new capital budget are as follows:
#    Project Details     N$
1    New cemetery in Kuisebmond       N$     1,000,000
2    Beautification of Town    N$     1,000,000
3    Industrial stalls in Kuisebmond    N$     1,300,000
4    Upgrade and new Tourism Facilities Dolphin Beach    N$     9,867,000
5    Upgrade stadium in Kuisebmond Phase 2    N$     3,499,992
6    Youth Centre Kuisebmond    N$     4,000,000
7    Resealing/Tarring of Streets & Sidewalks    N$   13,400,000
8    Divert Northern Industrial sewer/Connect KM Ext. 3       N$     1,200,000
9    Fencing at Landfill site    N$     2,000,000
10    Garages for new vehicles    N$     1,000,000
11    Narraville Community Hall    N$     8,500,000
12    New Trucks       N$     7,950,000
13    Land Development Projects         N$ 120,015,000
14    TOTAL    N$ 174,731,992
The operating budget consists of:
Total Eexpenditure for the new financial year is estimated at about 291 MILLION DOLLARS while total expenditure for the current financial year was estimated at about 239,2 MILLION DOLLARS. Therefore, the year-on-year growth is about 21.6 percent. The revenue to balance off this expenditure mainly stems from tariff adjustments and increases in property developments. About 80% of total estimated income is made up of water and related services, property rates and taxes, refuse removal services and sanitation services.
Average tariff adjustments on these items have been proposed as follows:
    Water supply services:        11%
    Property rates and taxes:        8% on site values
8% on improvements
    Refuse removal services:        15%
    Sanitation services:        15%
Tariff adjustments for other services will be made available to the public at our offices and through the media once gazetted.     Even with these increases, we are still left with a shortfall of N$ 69,978 which will be financed from Unappropriated Surplus Funds of previous periods.
In conclusion, I would like to thank my fellow councillors for their continued support, the administration leadership and all staff for their commitment and hard work in making it possible for me to present this budget today.
Your worship the mayor, fellow councillors, ladies and gentlemen; It is now my distinct honour and privilege to officially present the 2013/2014 budgets to the mayor for her to table it to this august house for approval.
I thank you.
=========== END ===========
One comment on "
BUDGET SPEECH DELIVERED BY THE CHAIRPERSON OF MANAGEMENT COMMITTEE

"