TABLING OF THE 2013/2014 BUDGET – REMARKS BY H.W. CLLR UILLIKA NAMBAHU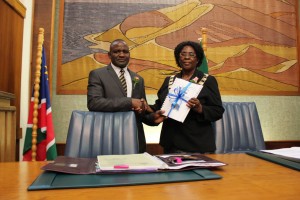 Thursday, 13 June 2013, Council Chambers, Civic Centre
Councillor Benson Uakumbua, Deputy Mayor of the Port City of Walvis Bay
Councillor Immanuel Wilfred, Chairperson of the Management Committee
Fellow Councillors,
Mr Muronga Haingura, Chief Executive Officer, Municipality of Walvis Bay
Management and all staff members of Council,
Distinguished invited guests,
Members of the Media
Ladies and gentlemen,
Thank you for responding positively to our invitation for your presence here at the Council Chambers on the occasion of our Extra-Ordinary Council meeting at which we will witness the tabling of the 2013-2014 Tariffs and Financial Budget.
Aside, its human capital, financial and economic resources are by far our most important resource with which we are expected to carry out our mandate as prescribed to us under our enabling legislation, the Local Authorities Act, Act 23 of 1992 as amended.
During the presentation of the budget, you will be enlightened on how we intend on putting your resources to use as we strive to make the Port of Walvis Bay the preferred place to live, play or do business.
At the onset, I feel duty bound to indicate that given the tendency of rural inhabitants to migrate to urban centres in search of greener pastures and opportunities and the great demand that comes along with the provisions of sanitary, habitation, employment and modern medical facilities to mention but a few, every city or town will be cost-restrained as they become overwhelmed by the rapid demand for the services I mentioned just now. As such, the greatest challenge therefore remains the balancing of our ambition with our conscious.
Put plainly, this means that as a municipality we are expected to buy water and electricity from bulk suppliers at a cost. When their costs are increase, we in turn are expected to increase our costs to you the consumers. We are always reluctant to do so and as such having to increase any tariff becomes a last resort and only in situations where these costs cannot be absorbed or recouped elsewhere.
As such, we have always borne in mind the already stretched financial resources at the disposal of members of our community and such; it is not always a good idea to see an increase in tariffs.
Fellow Councillors, Ladies and Gentlemen,
I do not want to further pre-empt what Councillor Immanuel will be saying as such I will hand over to him for the formal tabling of the 2013-2014 Tariffs and Financial Budget,
Councillor Wilfred Immanuel….
(After Tabling)
Thank you so very much, councillor Wilfred Immanuel for tabling the Budget and tariffs for 2013-2014
I wish to draw your attention to some key positive points, namely the
1.    Allocation of a lions share of funds to land development- this provides proof that the Municipal Council of Walvis Bay is fully determined to addressing the lack of housing and land shortages.
2.    Upgrading of our roads and sidewalks
3.    Construction of a Community Hall for Narraville
4.    Construction of a Youth Centre
5.    Acquisition of New trucks
6.    And the beautification of our City to mention a few.
This is an indication that we plan to work even harder for our community during this financial year.
I thank you!