Oranjemund Town Council visits Walvis Bay
Posted: 21 Apr 2021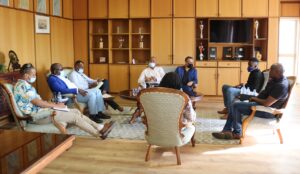 A delegation from the Oranjemund Town Council paid a courtesy call on the mayor's office today to familiarise themselves with the activities of the Municipality.
The delegation stressed that they would like to establish a relationship between various Municipalities, including the Walvis Bay Municipality to learn more about the various achievements and challenges faced by other Local Authorities. Included in the meeting were topics about affordable housing, especially for low income earners. Walvis Bay Mayor, Trevino Forbes shared vital information which includes his council's efforts to avail more low-cost homes in an effort, to decrease the number of shack inhabited areas. Both council members highlighted various other important factors that would contribute to the betterment of the both the communities and the municipality.
The Oranjemund Town Council was established in 2017 and has a staff complement of 55. The Mayor of Oranjemund, His Horship Mayor Elias Kasemba was accompanied by his council members, Chairperson Cllr Guame Stephanus, Cllr Tsheya Petrus, Cllr Haihambo, the CEO, Shali Akwaanyenga and Manager of Local Economic Development Charles Kakuru, while Mayor Forbes was accompanied by the Acting CEO of the Walvis Bay Municipality, Mr Frans !Gonteb.
---