Geingob hands over 243 houses at Walvis Bay
Posted: 28 Nov 2017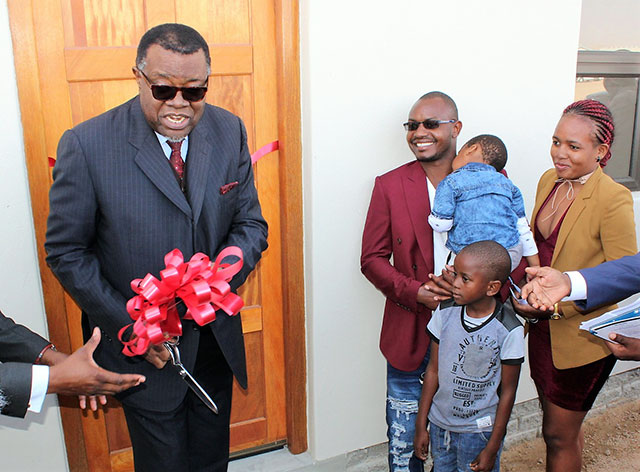 PRESIDENT Hage Geingob last Friday handed over 243 houses at Walvis Bay built on plots serviced under the government's mass housing programme. Another 800 houses, whose costs range between N$380 000 and N$480 000, are set to be built at the harbour town. Of these, about 220 are earmarked for Narraville and the rest for Kuisebmond residents. To date, nearly 250 have been completed, while the rest are under construction.
The land was made available by the municipality, while its servicing was financed by the government. The construction of the houses was funded by the private sector.
Geingob called this an example of the "win-win public-private partnership" which government is advocating, further hoping to see this kind of partnership introduced nationwide.
The low-cost houses were sold to first-time homeowners. The government launched the massive urban land servicing project (MULSP) in 2015 to expedite its ongoing efforts regarding servicing and delivery of residential land and affordable housing in urban areas. The initiative was kick-started in Windhoek, at Oshakati and Walvis Bay. On the flip side of the land delivery and housing coin is that while this project is taking place, hundreds of houses across the country built under the mass housing programme are still empty. Scores were also vandalised while standing vacant for a long time.
The delay in ensuring that these low-cost houses are occupied, has frustrated many communities. "To avoid the pitfalls where houses are constructed, only to end up unoccupied and subject to vandalism, I am pleased to note that the municipality [of Walvis Bay] has already finalised its waiting list of applicants, and signed deeds of sale with screened and qualified applicants," said Geingob. He urged other local authorities and agencies tasked with housing delivery to follow suit.
"As a nation, we are still confronted with the challenges of poor sanitation, and a backlog in the supply of serviced residential land as well as decent and affordable housing in both urban and rural areas. Tackling these challenges requires concerted efforts, and this is why I have endeavoured to rally Namibians, through the concept of Harambee, to join forces to confront and address national challenges, which include residential land, housing and sanitation," the President noted.
"We must realise that these challenges are not insurmountable. We will hold hands and stay on course, knowing that although it may take some time and huge resources to address the needs of the people, through our common sense of purpose, we will continue to deliver, deliver and deliver."
John and Bobby Tjituka and their two sons were happy to be welcomed into their new two-bedroom house by Geingob, who said it was their home from now onwards. "We have been renting till now. It's been a long wait, but now we have our own home, and having the President unlock the door for us and welcome us in was a big blessing," John Tjituka told this newspaper.
[by Adam Hartman, Namibian]
---