Woermann Brock Seagull opens it's doors in Kuisebmond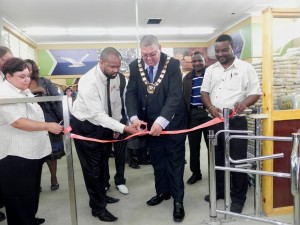 One of the biggest retailers in Namibia, Woermann Brock opened a new branch in Kuisebmond yesterday. The branch which will go by the name Seagull was officially opened by Walvis Bay Mayor Derek Klazen.
Speaking at the occasion, Mayor Klazen said the owners and management of Woermann Brock have reaffirmed the fact that Walvis Bay is continuing to be a growth centre in Namibia. "Given the risks that any company must analyse before investing or expanding their operations, it is reassuring to note that Woermann Brock has no doubt that Walvis Bay offers a desirable business climate," said Klazen.
Ingo Woermann, Managing director of Woermann Brock Stores at the coast said a need was seen to make a shop in the area available to the community. "The owner of the building intends to add further value and to develop this into a small complex with additional facilities with the intention to add convenience to your lives," he said.
Woermann urged the community to look after what has been put in their hands so that it can be retained for future generations. He further urged the community to take responsibility for the store and to care for it as if it was their own.
Woerman Brock is proudly Namibian and was established in 1894 by the Woermann Family.