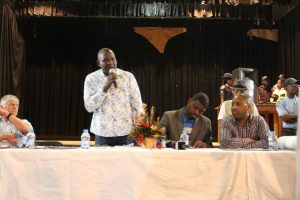 Photo caption: Alderman Immanuel Wilfried, Mayor of Walvis Bay addressing residents during a public meeting at the Kuisebmond Town Hall
The Municipality of Walvis Bay called Public Meetings yesterday in Walvis Bay to provide feedback to the public on the progress of Farm 37 and to consult with the residents to obtain their approval for the reduction of the minimum size of residential erven to be developed at Farm 37. The meetings took place simultaneously at Kuisebmond Community Hall, Baptist Church – Kuisebmond, Narraville Community Hall and at Immanuel Ruiters Primary School Hall at 6pm.
The residents  were in agreement that the minimum erf size at Farm 37 be 150 m2 to accommodate more people to have homes.