2012 Walvis Bay Junior Municipal Council Inaugurated
Posted: 8 Oct 2011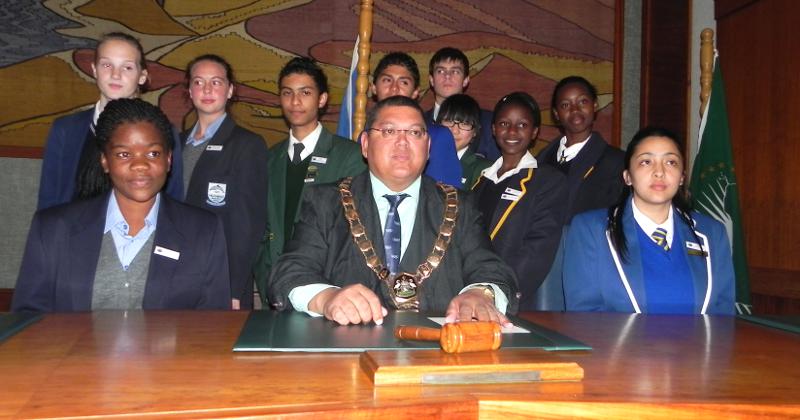 This week saw the Inauguration of the 2012 Junior Municipal Council of Walvis Bay. The concept of a Junior Council was first conceived in 1995 by the Walvis Bay Youth Forum and the programme is still going strong, with new members being elected every year.
Some of the main aims of the Junior Council are to develop pupils with strong leadership qualities; acquaint the youth with procedures and meetings; be a mouthpiece for the youth of Walvis Bay and to act in the interest of the youth in order to afford them the opportunity of working for the community.
During the inauguration, Walvis Bay Mayor Derek Kazen said that in exposing the youth to real-life situations on the local authority level of leadership, the senior Council hopes that they will appreciate the experience since local authority governance is the closest to the people. "With this programme we aim at allowing our youth to cultivate their fondness for working with and towards their community's well-being and become aware of all challenges faced by municipalities on any given day," he said.
Klazen reminded the newly elected members that they have an open door to the Senior Councillors and that they should feel free to keep them informed of their projects, their challenges as well as their successes.
"Teaching this group and those before them about discipline on how to prudently utilize financial and other resources and performing charitable events within our community will help Namibia towards the attainment of goals such as the Millennium Development Goals of 2015 and the National goals of Vision 2030," Klazen added.
In her first address, newly elected Junior Mayor Kim Lombard said, "Council is our stage, and we are the players.  Council will be what we make of it.  If we uphold the prestigious name of the Walvis Bay Junior Town Council by being good 'players', then at the end of the year we can reminisce and be proud of the people we've become. Yes, we might encounter various problems, but together we can accomplish anything."
The new junior councillors are as follows.
Michelle Someses (Deputy Human Resource Manager),   Michelle Wu (Human Recource Manager), Whinslow Fraser ( Deputy Public Relations Officer), Wade Visagie (Public Relations Manager), Ndahafa Waimine (Deputy Secretary), Lika Blaauw (Secretary), Nicole Meyer (Deputy CEO),  JD Swarts (CEO), Ndeshi Muatunga (Deputy Junior Mayor) and  Kim Lombard
(Junior Mayor).
---