Volunteers collect 3 tonnes of litter at Walvis Bay's Team UP 2 Clean UP
Posted: 20 Mar 2018
MEDIA RELEASE
TUESDAY, 20 MARCH 2018
(FOR IMMEDIATE RELEASE)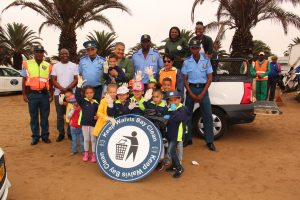 Volunteers collect 3 tonnes of litter at Walvis Bay's Team UP 2 Clean UP
After two successful clean up events,Team UP 2 Clean UP took to the entrances to Walvis Bay last Friday.  Meeting at the Diaz Circle, volunteers tackled the B2 main road, C14 Rooikop Road and Union streets with the common goal of cleaning up Walvis Bay.
The Municipal Council has raised concern regarding the cleanliness of various areas in Walvis Bay as keeping the urban environment clean is a collective responsibility. On average, the Municipality spends N$2.3 million a year in keeping Walvis Bay's public spaces clean. Streets are often filled with litter, building rubble and domestic waste. The misconception that littering creates jobs for the Municipality needs to be discarded as a new culture of keeping Walvis Bay clean is underway.
A brainchild of the Municipality of Walvis Bay's Department of Water, Waste and Environmental Management, Team Up to Clean Up is a community clean-up project aimed at consolidating efforts to encourage the public and stakeholders to keep the environment clean. Allocated to take place on a quarterly basis, the first Team Up to Clean Up took place last year in Kuisebmond in September and in Narraville on 29 November 2017.  To date, Team Up to Clean Up has collected 5050kg of litter and over 620 community members have volunteered to participate. In Alderman Immanuel Wilfried's speech delivered by Councillor Paulus Kauhondamwa, the Mayor encouraged participants to remain custodians of the environment.  "No matter where you find yourself, continuously keep the environment you are in litter-free and waste-free." He commend the Councillors who are the voice for the following themes assigned to them in the Walvis Bay communities. Residents are encouraged to share their innovative ideas and solutions regarding the following respective themes:
Parks and Green Belts, assigned to Cllr Saara Shailemo
Open Spaces and Access Roads, assigned to Cllr Lilo Niilenge
Sewage Systems, assigned to Cllr Tobias Nambala
Trade areas (Mobile),  assigned to our Deputy Mayor Penelope Martin
Business Premises, assigned to Cllr Ndishoshili Nghilumbwa
Street sand removal, assigned to Cllr Valencia Izaaks
Construction sites/Building Rubble, assigned to Cllr Paulus Kauhondamwa
Car Washes, assigned to Cllr Gibson Goseb
Awareness raising is the responsibility of  Cllr Hilka Erastus
John Esterhuizen, General Manager: Water, Waste and Environmental Management thanked the following for making this Team UP 2 Clean UP Walvis Bay Entrance editiona resounding success:
Sponsors:
Coca-Cola Namibia Bottling company sponsored bottled water and cool drinks for the volunteers.
Erongo RED sponsored food and bottled water for all volunteers.
Venus Supermarket sponsored cool drinks for the event.
Fruit and Vegetables Walvis Bay sponsored fruit for the clean-up.
Namport and Baard Group sponsored buses to transport volunteers.
Sanitech sponsored mobi-loos for the event.
Baleia Do Mar gave gloves for volunteers to pick up the litter.
DDP Agency CC sponsored dust masks.
Spur and John Dorys Restaurant Walvis Bay sponsored bottled water.
Benguela Fishing Company sponsored bottled water and surgical gloves.
Cadilu Fishing Company sponsored surgical gloves for all volunteers.
Volunteers:
Walvis Bay residents
Rooikop Military Base
Naval Base, Walvis Bay
Namibia Correctional Services, Walvis Bay
Duinesig High School
Tunacor Fishing Company
Namport employees
Oruuano Church
Hokey Pokey Kindergarden
ENS Africa Law Firm
Rolls Royce
Haimbili Cleaning Services
International University of Management
Councillors and Municipal Staff
Statistics:
Team UP 2 Clean UP Walvis Bay entrance edition statistics:
-Date: Friday 16 March 2018
-Number of black bin bags collected: 903 units
-Total weight of litter collected: 3000 kg (3 tonnes)
-Number of participants: 230 residents
Issued by the Public Relations & Customer Service Division
---