Drive-through vaccination campaign for Walvis Bay kicks off
Posted: 17 Aug 2021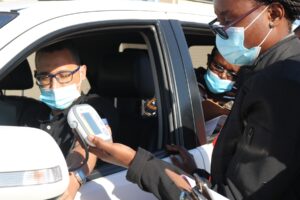 The drive-through vaccination campaign for Walvis Bay successfully kicked off this morning. The Mayor of Walvis Bay, Trevino Forbes, Walvis Bay Urban Constituency Councillor, Hon. Deriou Benson, and municipal councillor Albertina Nkoshi were among the first in line to receive their jabs.
Mayor Forbes received his second jab and is now fully vaccinated, while Hon. Benson and Cllr. Nkoshi received their first jab.
Mayor Forbes expressed satisfaction with how well organised the drive-through is arranged and congratulated the organisers while cracking jokes to calm his nerves. He further urged residents to take advantage of this opportunity and get vaccinated.
The drive-through station is at the Jan Wilken Stadium, and operating hours are 10am to 6pm and will continue until 27 August 2021
---