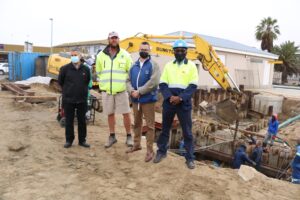 Council recently appointed CSV Construction Namibia for the replacement of sewer lines in Pelican Street in Narraville. The contractor has commenced with upsizing of parts of the sewer pipes using conventional or the open trench method. Heavy Mining Equipment such as excavators, loaders, and Tractor-Loader-Backhoe are currently on site and will be present for the duration of the project which is expected to reach completion in April 2022.
Walvis Bay Mayor, Trevino Forbes went for a site visit yesterday to assess the progress being made by the contractor. Forbes said even though the residents who live in that vicinity might be disturbed by noise pollution and sometimes a foul smell, the temporary discomforts will outweigh the long-term benefits.
"I would like to humbly appeal to the residents in this area to please bear with us while our contractor works on this project which will improve sewage flow in the long run. This is just one of the ways to improve the living conditions of our residents," the Mayor said.
According to the General Manager for Water, Waste and Environmental Management, John Esterhuizen, the project was initiated to improve sewer flow within the pipes in the Narraville suburb. He said the project will be carried out in two phases. It includes the replacement of the existing sewer lines and some manholes.
The total length of sewer line to be replaced is six hundred (600) metres. During the entire project, dewatering and sewer pumping equipment will be used on a fulltime basis. Vibrations will also be felt for this duration.
The following streets will be partially closed off during the construction period as per project progress:
Pelican Street
Attie Carollisen Street
Koedoe street
Harry Van Reenen Street
Kruis Street
Schmidt Street
Mayor Forbes also visited the Langstrand wastewater treatment plant which is currently undergoing maintenance.